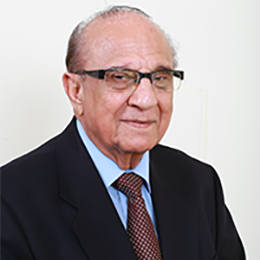 Mansoor Daya
Managing Director
Managing Director's Message
We have the team, the strength and the will to do it
Our history, 50 Years of Excellence Mansoor Daya Chemicals Ltd. was founded in 1962 by Mr. Mansoor Daya. On foundation of the company, the factory was officially opened by the late Hon. Kasambala on behalf of the Father of the Nation, the late Mwalimu Julius Nyerere. With beginnings in Pharmaceuticals, initially only four items were manufactured aspirin tablets; chloroquine tablets; aspirin phenacetin caffeine compound and Vitamin B complex tablets. By 1970, production has reached 500,000 tablets per day. Now more than 55 years later, we can manufacture over 3-million tablets per shift using new machinery - but only utilising 50% of our capacity. We are supplying medicines to MSD, hospitals and clinics. With encouragement from the government directive to buy local medicines, we will be able to utilise 90% of present capacity. At present Today, the company manufactures over 50 of our own brands of high-quality Health care products such as Medioral Toothpaste and Medi-Oral Mouthwash, cough syrups, vitamins, etc. Proud moments The visit of Prime Minister Pinda to celebrate 50 years of Mansoor Daya Chemicals Ltd. story of the past but also an opportunity of boosting our moral for enhancing skills and building a diverse, talented workforce to contribute to the future health care in Tanzania with new innovative products.
What we Stand For
Our aerosol manufacturing plant was converted from chlorofluorocarbons (ozone depleting) to environmentally inert hydrocarbons almost two decades back.
Our Quality and Standards have been consistent and our products are now exported to neighbouring countries. Our products were amongst the first to be registered on establishment of the Tanzanian Bureau of Standards (19).
Over 55 years we have manufactured products that we believe have been of value to the needs of Tanzanians providing value for money.
Our Management Team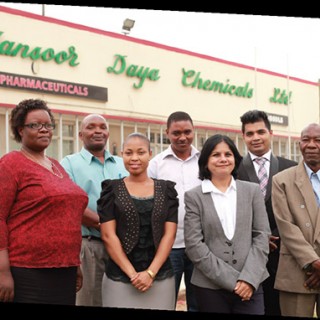 Management Team
Management Team
First row: Adventina (Sales Manager), Monica (Microbiologist), Divya (Q. A. Manager), James (Ast. Prod. Manager). Second Raw: Bendict (Q.C. Manager), Abdalah (Q.C. Analyst), Viraj (Prod. Manager)